Waterford Rise could make your retirement much brighter!
April 20, 2020
If the current economic conditions have impacted your retirement plans you should consider selling up in Metro Melbourne and buying a new property at Waterford Rise.
We have quality houses on large lots for $100,000 or more less than what you would pay for the average established house in Metro Melbourne, less than 40mins from Metro Melbourne or just over an hour to the CBD on the train.
There are 100's of buyers from Metro Melbourne who have cashed out of their Melbourne homes and bought a brand-new home at our masterplanned estate – and pocketed the cash difference!
If you sell your house for the Metro average of $855,429 (Source: Domain House Price Report, September quarter 2019 Melbourne Metro Average House Price) and buy at Waterford Rise you could add approximately $400,000 to your retirement savings! (Based on H+L packages available at Waterford Rise 1/4/20 )
BENEFITS
At Waterford Rise, many lots have room for that lovely new caravan, campervan, boat or trailer so you don't have to put your travel and recreational plans on hold – and there's room for a shed in the backyard for your hobbies! Plus, keen gardeners will enjoy the extra space to plant and prune all year round!
WHERE IS THIS PARADISE?
Waterford Rise is a masterplanned estate with 25 hectares of open space including four parks that offer a wide range of activity options on the edge of Warragul 104km from Melbourne's CBD.
COMMUNITY LIFE
With more 1200 people and 600 homes already completed at the estate there are many social groups for the community to connect with, including dog walking, entertainment and eating out among many other interests. The Waterford Rise Resident's Group has more than 300 active members!
INVEST IN YOUR LIFESTYLE – NOT MAINTENANCE
Another major benefit of buying a brand-new home at Waterford Rise is the time, effort (and cash) you save on maintenance! Brand new homes come with construction guarantees and quality assurance that ensures you get the home you deserve!
Don't be cramped up on a townhouse or tiny lot that is lost in suburbia! The average lot size at Waterford Rise in February 2020 is over 600m2.
If you want to explore how you can live in a brand new home in beautiful Warragul call Ann Maree on 1300 737 094)
HERE'S HOW YOU CASHOUT AT WATERFORD RISE
In addition to larger lot sizes at Waterford Rise, the average house and land price is much less than the equivalent metropolitan estates.
HOME OWNER VALUE!!
SIMONDS H&L PACKAGE
3 bedroom, 2 living areas, 2 bathrooms, 1 car garage – total floorspace 18sq
FLOOR PLAN: Burnet 18_172
FACADE: Autumn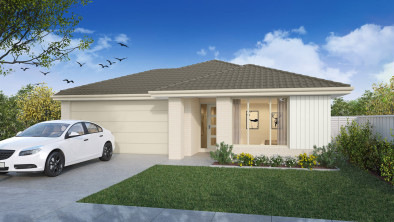 This home at Waterford Rise – $383,158.
That's over $472,000 less than the Metro Melbourne average!
LOT 6311, Waterford Rise Estate, Warragul (571M2)
(Price 1 April 2020 supplied by Simonds Homes)
TESTAMONIAL
June and Ken https://www.youtube.com/watch?v=r4sGlhozQ58
WATERFORD RISE ADVANTAGE
Not intended to be financial product advice, legal advice or tax advice, and should not be relied upon as such. The information is general in nature and may omit detail that could be significant to your particular circumstances. Please ensure you consult your financial planner.